Also setting the trend in jazz
Some people might be surprised that the tradition conscious Black Forest is so modern. Donauechingen e.g. organizes the world famous music festival for contemporary music every year in October. (1921 this festival took place for the first time).
Lovers of jazz find a jazz festival in various places in summer. First class bands come to the Black Forest: folk and country music, rag, Dixie and blues, swing and rock music are played - of course modern jazz in all variations, too. If you want more information contact the spa administration in Feldberg, Hinterzarten, Schluchsee and Titisee-Neustadt.
The jazz club in Villingen-Schwenningen is one of the oldest and most famous in Baden-Württemberg. Since 1977 an international jazz festival - during which European and American bands play takes place in the "Theater am Ring".
And Bad Liebenzell has started to organize jazz concerts every year in summer.
As a matter of fact people in the Black Forest are musical. So it is not surprising that organs have been made in Waldkirch for 200 years - not only awe- inspriring church organs, but all sorts of instruments consisting of pipes, which are played at fairs.
Another instrument coming from the Black Forest is nothing grand but it is world famous: the tiny flute, which makes the cuckoo call in the cuckoo clock.
Also different musical instruments have made the Black Forest famous: the accordion. First there was the mouth organ which is said to have been invented in 1821 by a person from Berlin, a man called Friedrich Bach. The art of making these musical instruments became known in the Black Forest - nobody knows how the know how got there. Around 1830 the first "Bläsle" (an instument you blow into) was made in 1857. Mathias Hohner, a clockmaker, started to build them with precision. This was the beginning of the production of mouth organs and accordions. In the accordion museum in Trossingen you will find a lot of information on that subject.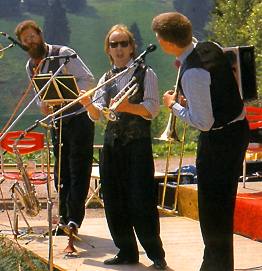 > Why exactly the Black Forest?
> Partly sophisticated partly informal
> A watermill and a ski lift
> Clear sounds in the Black Forest
> Also setting the trend in jazz
> The "Silver Star", a famous inn, and the "Simplizissimus"

German: Tonangebend auch im Jazz