Famous Roads: the north of the Black Forest
The northern region stretches from Karlsruhe in the north to road 28 in the south. This road connects Straßbourg with Herrenberg via Freudenstadt, Nagold.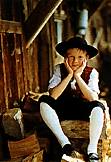 There are innumerable hiking trails here and also some famous roads, e.g. the Black Forest "Hochstraße". It connects Baden-Baden in the Rhine valley with Freudenstadt in the mountains and it is the oldest tourist road in the Black Forest. In former times there were only paths for the transportation of the tree trunks. But when the Black Forest became more and more popular with hikers, holiday makers and especially motorists, hotels were needed instead of log cabins and so this road which is 60km long was built. It passes many sights – among them the "Mummelsee" a famous lake south of the "Hornisgrinde".
Another beautiful road leads from Rastatt via Gernsbach to Freudenstadt. This romantic road is 100km long and was built in the valley of the rivers Murg and Kinzig with many picturesque villages.
Old customs are still alive in the Black Forest, not only in the south but in the whole region. Yet many traditional costumes which were still worn on Sundays and Christian holidays not so long ago, have become part of the tourist industry today.
Actually the red hat decorated with balls – today the symbol of the Black Forest – belongs only to three small communities near Schramberg, which is south of Freudenstadt. But you must not be over critical – costumes look nice wherever you see them.
> The Regions
> The Black Forest is divided into three areas
> Famous Roads
> Homeland of the Rafters
> Lakes and the Highest Mountain
> Glaciers and Lakes: The Primeval Landscape
> The Upland Moors: The typical landscape
> At the Schluchsee
> Lake Titisee
> The Höllental
> The gorge of the Wutach
> The Belchen
> The Schauinsland
> The mountain called Feldberg
> The lake called Feldsee in the Feldberg massif
> In the region called Hotzenwald
> Four valleys in the Hotzenwald region
> The fifth valley in the Hotzenwald