Clear sounds in the Black Forest
What about entertainment in the Black Forest? The question applies to concerts as well as the theatre performance, about which you will hear more later.
You would not imagine that also music lovers will find their sound here. But that is one more reason to keep your ears open in the forest.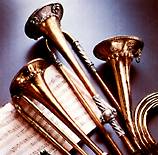 What do you discover? From the spa concert to chamber music, music played by symphony orchestras to Swing, there is a wide range of concerts which not even every city can offer.
There is a music tradition to which the monasteries in the region have contributed a lot for many centuries.
Villingen-Schwenningen, the twin city, for example shows great activity in the field of music. It has done that not only since yesterday. The Villingen-Schwenningen Symphony orchestra has gained a good reputation in the world of music.
Orchestras and soloists from abroad often perform in the Franciscan concert hall in Villingen.
Church music also plays an important role in Villingen-Schwenningen: both the organ concert in summer and the organ festival in autumn during which you can listen to organ music in the cathedral and in St John's church are well-known.
The concerts given in the minster in Hirsau are famous, as well as those in Alpirsbach ( from April to October on Sundays). Even more famous are the concerts in the cloisters in Alpirsbach. For several years now there has been a Belcanto festival in Bad Wildbad in summer and a Mozart festival in spring (in which there is not only Mozart's music to be heard.).Every summer and autumn there are concerts in the cathedral (the third largest domed building in Europe) of the Benedictine monastery in San Blasien. You can listen to chirs, wind ensembles, organists and soloists from Germany and many other countries.
There is a summer festival of music in Baden-Baden - the former European summer capital of Germany. On weekends the re is a variety of choices: oratorios, gala performances at the opera, promenade concerts and concerts in which symphony orchestras play.
And Waldkirch - where organs have been built for 2oo years - organizes an organ festival every three years. Today there are still 4 workshops in which organs are made.
> Why exactly the Black Forest?
> Partly sophisticated partly informal
> A watermill and a ski lift
> Clear sounds in the Black Forest
> Also setting the trend in jazz
> The "Silver Star", a famous inn, and the "Simplizissimus"

German: Helle Töne im Schwarzen Wald